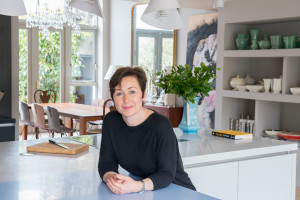 Corinna Knaggs is a Rhodec qualified Interior Designer with over twenty years experience in the industry. She spent a number of years working with Gary Lee & Partners, a Corporate Interior Design firm in Chicago. On her return to Ireland, Corinna sourced new products for B&G Ltd, a DIY Distribution company and subsequently became an in house designer for Benedict's, a well known fabric distribution company. Becoming a parent changed her career focus and she began undertaking private residential and Corporate Interior Design commissions on a limited basis. She had the fortune to assist in the renovation and decoration of a number of Georgian and period homes and became involved in hiring out her own home as a film set for RTE dramas including The Clinic and Hollywood pictures including Pierce Brosnan's Laws of Attraction.
Corinna provides her clients with a creative, tailored service, combined with an ability to keep a close eye on budgets and deadlines. She works closely with each of her clients taking time to listen to their requirements and helping them understand the building, design and fit out process. As needed, Corinna works with a number of architectural practices to provide a complete renovation and rebuilding service. Her attention to detail, ability to imaginatively reuse existing fixtures & fittings, creative problem solving and years of hands on experience results in a project that enhances a properties value and enjoyability, whilst saving her clients time and headaches.
PUBLICITY & PUBLICATIONS: Corinna's work has appeared in a number of Irish interior design publications including "The Gloss", "Image Magazine" and "The Irish at Home". She has previously appeared on the RTE television production "About the House".